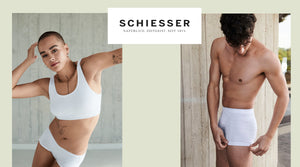 Discover Europe's most popular underwear and nightwear brands.

New arrivals 2023
Schiesser REVIVAL
Originals have the power to change the world.
Schiesser revival offers cult classics from the last century in
traditional fine rib and double rib, which are as popular today as they were
then.
The underwear is now made from organic cotton and lovingly furnished
with button strips in traditional cotton ribbons.
Celebrate this revival with us.
Save up to 15%